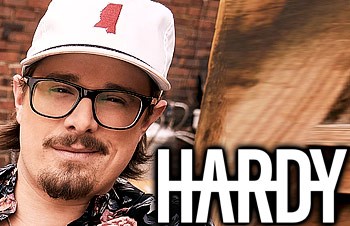 This week I thought we should give a little attention to this amazing new artist professionally known as Hardy. Like most of the artists on air, he started his career as a song writer. He has a passion for writing music and even graduated Middle Tennessee State University with a song writing degree. After moving to Nashville to pursue song writing he got a big break writing with Florida Georgia Line. He wrote the song "Up Down" by Morgan Wallen and FGL and it got so much attention that he was then signed by Big Loud Records in 2018. His career is taking off like a shot. He immediately released an EP entitled "This Ole Boy" followed up by the single "Rednecker" and a new EP called "Where to Find Me". "Rednecker" is a great song.
Listen here: https://www.youtube.com/watch?v=Sn2RBKPMpU0
Hardy also co-wrote Florida Georgia Line's singles "Simple" and "Talk You Out of It", Blake Shelton's singles "God's Country" and "Hell Right", "Drop" by Dallas Smith, along with Chris Lane's single "I Don't Know About You".
In September 2019, Hardy released a collaborative album titled Hixtape, Vol. 1, which featured a total of 17 artists including Thomas Rhett, Keith Urban, Tracy Lawrence, Jake Owen, Trace Adkins, Joe Diffie, Zakk Wylde, Cole Swindell, Dustin Lynch, and Morgan Wallen.  (RIP Joe Diffie)
Check it out here: https://www.youtube.com/watch?v=SWN8R1xw8IA&list=PLmoOJX8ck0EN_ZmEBS44wfN5_hloMao4n
This collection has my new favorite song: "One Beer" featuring Lauren Alaina and Devin Dawson and I love to jam out to it while listening to 1037 The Gator. Hardy was set to be on tour with Thomas Rhett in 2020 for Rhett's Center Point Road Tour, but the tour was postponed in lieu of the COVID-19 pandemic. That is definitely a concert I do not want to miss. Hurry up 2021…We need to jam!
More Posts for Show:
Becky D