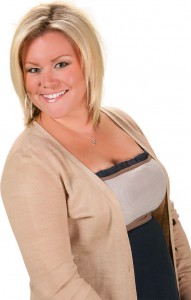 One of my favorite memories from my childhood was going for ice cream with my mom and listening to the radio. If one of my favorite songs (Tim McGraw – "Don't Take the Girl", Blake Shelton – "Austin", Tracy Lawrence – "Time Marches On") was on, I'd make her drive around the block so we could listen to it. Sometimes we'd have melted ice cream by the time we pulled into the driveway but it was worth it because there's nothing like that feeling when your favorite song comes one the radio!
I've loved listening to the radio for as long as I can remember and being a radio personality since 2002, I can honestly say I have my dream job! When I'm not on the air, you can find me obsessing over Pinterest projects, planning parties for my friends and rearranging my craft room. I'm outnumbered by men in my house – my husband, Jon, and dog, Kipper. They are my favorite faces in the world.
Thanks for letting me spend time with you each weekday!
Schedule
Sunday - 3:00 pm - 8:00 pm