In light of the current situation in our nation, this week's blog is about Thomas Rhett. Now before I get to how he is making a positive impact during these hard times. Let's take a deeper look into who Thomas is.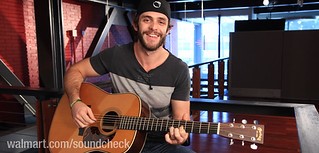 He is the son of Country Music artist Rhett Akins who had songs on the charts in the mid 90's with a number one hit entitled "Don't Get Me Started". In my opinion, Thomas inherited his father's best traits. His musical talent for sure! I absolutely love every song Thomas has written and recorded. My top favorites include: "Die A Happy Man"; "Look What God Gave Her"; and "Life Changes" (which was an in-depth look into his own life). What you may not know is that before he made it big as a singer, he wrote songs for artists like Jason Aldean, Lee Brice and Florida Georgia Line. Also, with Big Machine Records and Scott Borchetta who I mentioned in a previous blog (Justin Moore). I have a confession. When I first heard about him becoming an artist, I thought, "Lucky little rich kid of a huge Country Star gets to play rock star" Then I heard his music and lyrics and was like….WOW, he's amazing and I'm and idiot for judging him. He has definitely earned his status and has become one of my all-time favorite artists. I love his new song "Ain't Nothing That A Beer Can't Fix" as heard on 1037TheGator.com. New projects include a collab with Kane Brown and AvaMax for the upcoming Scooby Doo movie called "On ME". Check it out here.
Now these days are crazy. The riots and COVID are rocking our nation. Thomas has a lot to say about it. I will not elaborate as he says it best on his own. Click here to read his testimony.