Becky D's Nashville New Music Blog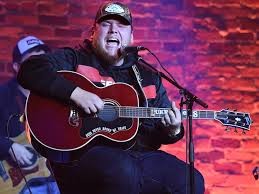 Luke Combs has to be one of the most talented artists I have seen in years. I seriously think he could sing "Mary Had a Little Lamb" and it would be a hit. He has a great sense of humor as well as seen in his latest interview with ET Canada and Taste of Country. https://tasteofcountry.com/luke-combs-wedding-nicole-hocking-update-pandemic/. LOL he is hunting turkeys and working out even if it doesn't look like it, says he.
He is also writing more music in quarantine. His new song is based on the pandemic: It's real good and appropriately called "6 Feet Apart" Give it a listen: https://www.youtube.com/watch?v=6d9XjnV2iKA
I bet yet another number 1 song, as Luke is no stranger to number 1 status. I mean everything he has released has hit number one so far on Billboards Country Airplay. You know the songs: "Hurricane", "When It Rains It Pours", "One Number Away", "She Got the Best of Me", "Beautiful Crazy", "Beer Never Broke My Heart", and "Even Though I'm Leaving". His first album, This One's for You spent 44 weeks at number one on Top Country Albums, setting the record for the longest reign at the top of that chart by a male artist. Beating out Shania Twain.
"Does to Me" featuring Eric Church, is his second single off his second album, What You See Is What You Get, and is climbing the charts fast as it currently sits at number 5 and will most likely be added to his number 1 hits. How amazing is that? Every song he releases makes number 1? He still has a long way to go to get anywhere near George Strait's 61 number 1 hit record. So keep on writing, Luke…We love it! Personally, I absolutely love his music and am excited to say I am set to see him live in New York City this November as long as this pandemic comes to an end. It would be so cool to see him play in the Big Apple then after get me some white New York Pizza and take a stroll around Time Square.