Spend your Memorial Day Weekend listening to live music from Toby Keith, Justin Moore, Craig Morgan, and more while celebrating and paying tribute to Vietnam veterans who never received a proper homecoming. Memorial Day Weekend 2022, May 28th & 29th, thousands of veterans, their families and friends will gather at Daytona International Speedway for the celebration of a lifetime.
Some of America's bravest warriors and defenders never received the thank you they deserve. Upon returning home from combat decades ago, Vietnam veterans were met with shame and disgust, protests and vitriol from the country whose freedoms they swore an oath to defend. Because of their own experience, these Vietnam warriors have been steadfast in their patriotism and support of younger generations returning from another unpopular war, the one waged in Iraq and Afghanistan. Many 9/11 veterans return to a patriotic sea of Vietnam veterans to welcome them back to U.S. soil – the proper way to thank America's heroes. These two generations are united by a common bond that no one willing to lay down their life for their country should ever have to endure. Memorial Day Weekend 2022, we will come together to finally honor, celebrate and pay tribute to Vietnam veterans at Daytona International Speedway. It will be the most patriotic party this country has ever seen. Through live music from your favorite artists like Justin Moore, Toby Keith, Craig Morgan, pageantry, reunions, speeches, flyovers and more, we will recognize Vietnam veterans by giving them a celebration that's been brewing in America's soul for decades.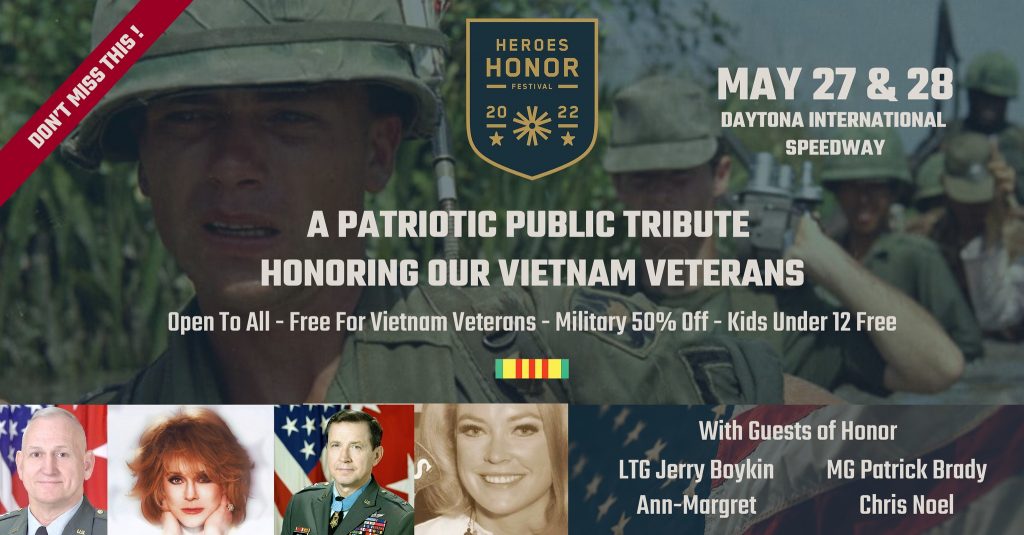 Purchase your tickets here.