This week's blog is about Kip Moore. He has some great new music coming out and it's been a few years since we have seen this from him but before we get into his new stuff. I would love to share with you about his road to stardom. A lot of people may not know this but many artists get their start by first having a publishing contract writing music. Also, it typically takes about 10 years of hard work before most artists get their first break. Under these publishing contracts, artists are expected to submit multiple new songs within a specific time frame and failure to do so could result in losing their contract. Kip had one of the most famous song writers in the industry on his team to help in getting him that publishing contract. His name is Brett James. Now Brett could be an artist on his own. Amazing song writing skills, plays multiple instruments and has an amazing voice and a great look. Very handsome man. However, he has dedicated his life to writing and helping artists like Kip in their career with now producing their albums.
Brett wrote many number one hits. Starting in the early 2000's song like "Who I Am" By Jessica Andrews (One of my favorites for sure); "When the sun goes down" by Kenny Chesney and Uncle Cracker; "Jesus Take the Wheel" by Carrie Underwood. After much success he transitioned into Record Producing including Kip's debut album, Up All Night, with hits like "Something 'Bout a Truck", "Beer Money, and "Hey Pretty Girl". James wrote with him the title song "Up All Night" and in the deluxe addition "Motor Cycle". This album was the huge start for Kip.
I had the privilege of meeting Kip in Nashville. If you ever go to Nashville, be sure to include a Monday night as something amazing happens in Mid-Town. It's called The Whiskey Jam which takes place at the dual bar called Winners and Losers on Division Street. Many artists frequent the event. I have met Brett Eldridge, Tyler Farr, and the Cast of the Show Nashville, Miranda Lambert as well as Chris Young. One night in particular…Kip in his signature red baseball hat showed up. I just couldn't help myself to go up and say hello. He was an absolute sweet heart.  I asked to take a photo and he said "let's do it"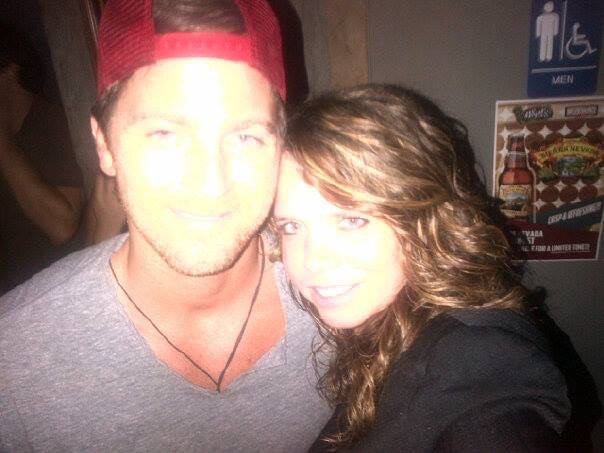 Now he has released a couple new songs recently that are starting to get some airplay on Country Radio. "She's Mine" and just a couple of weeks ago he released another new song called "Crazy For You Tonight". Give them a listen. Glad he is back.