Who's going  to see Blake Shelton, Kid Rock, Miranda Lambert, Keith Urban and more at The Great American Music Fest at Daytona  May 26-28th???
THE WINNER OF THE 

 #Polarpop500 GIVEAWAY AND WINNER OF A PAIR OF FRIDAY, SATURDAY AND SUNDAY COUNTRY500  TICKETS and a $50 gas card from Circle K….
NATE HENSLEY
"Wifey and me sharing a Polar Pop #Polarpop500@103.7 the Gator"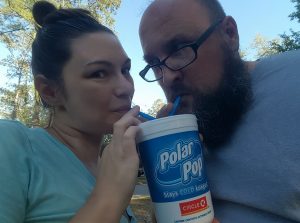 CONGRATULATIONS NATE!!
Looking for a way to cool down?
  Stop by Circle K today and fill up your Polar Pop cup for just 79 cents.  It stays cold longer! Circle k-  take it easy!